Join The Club
Social meetings with friends
Great use of facilities
Well established club
Top class site
Play competitive football
Learn new skills
Registration & Forms
Easy online registraion
No filling in long forms
We do all the hard work
Registration with the FAI
Payment Plans
Easy to use
Events
Headfest Festival
Community Games
Family Fun Days
Local charity fundraisers
Underage Academy Blitz's
Community gatherings
Equipment & Fields
Two full size pitches
Astro Turf Pitch
Community walkway
Night lighting for safety
CCTV cameras on site
Full outside Gym equipment
Announcement:

New season will be starting soon, keep an eye on the page for new announcements.
Become a Player
Registration is simple and straight forward, please use the following link to register:
If you need any help please contact us for assistance.
Become a Coach
We are always looking out for new coaches to help out, we offer great working facilities and all relevant TRA
Become a Sponsor
Sponsors are a huge part of our club and without them we would simply not be able to keep going, they are usually local companies who advertise within the grounds of Moyne Villa or sponsor kit for the children to wear. 
How & When to Register
All our registrations are done online and can be paid in full or a three montly plan using credit/debit card.  We usually open up registrations during late August.
Regular Registration
Registration for a new season generally opens at the end of August.
Late Registration
Late registration is possible, contact us for more info.
Registration Prices
Registration prices vary from age to age groups, please see the registration page for more details. 
Local Lotto
A a club we really do rely on our local lotto to help support the things we do, from keeping the grounds well maintained and the Clubhouse looking lovely to all the equipment and support of our volunteers every penny is put back into the club, all out volunteers help with collections of the lotto and the committee really rely on all our community to help out, maybe you will even win the lotto! If you don't play then you can't win.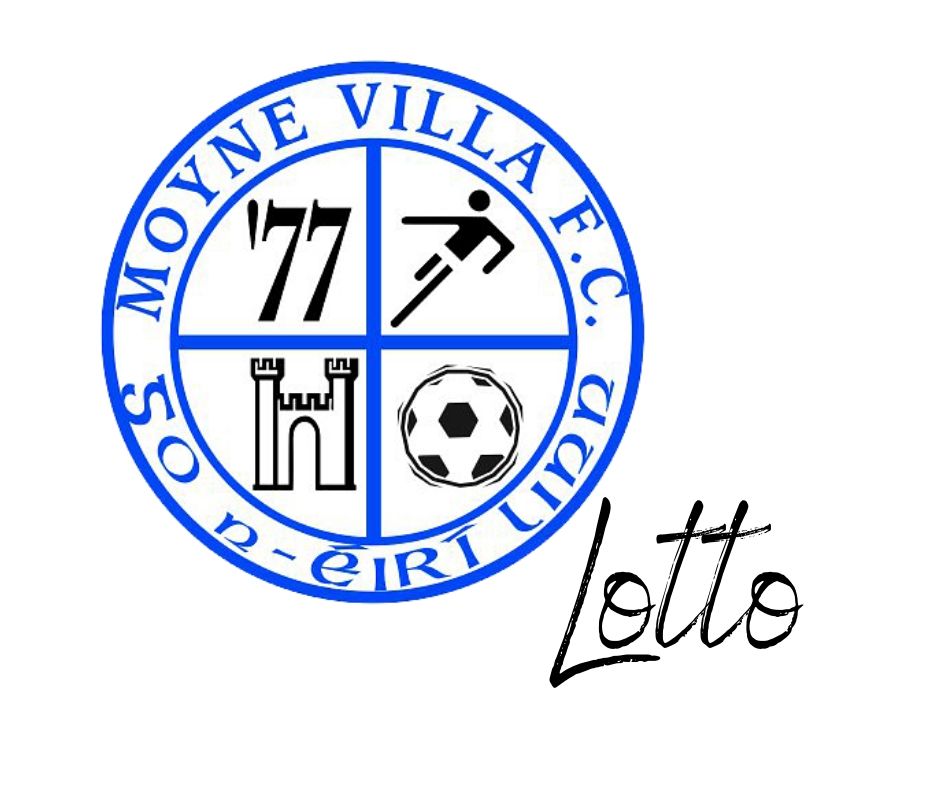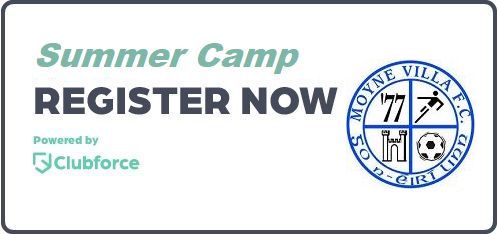 Facilities
Our facilities are top class and one of the best clubs in the west of Ireland, we continue to improve our club and it's pitches, we offer two full size match pitches, one Astro and a full workin outdoor gym and walkway.  We also have a top class clubhouse with full changing and showering facilites, off street parking and a fully kitted out kitchen with the option of hiring out function rooms upstairs.
Club Equipment
Most of our equipment is kept safely locked up within the clubhouse and is looked after by our local community welfare scheme workers.
Hours:
Monday – Friday 9:00am – 5:00pm
Saturday – Match dependant
Sunday – Match depandant
Fund Raising
Fund raising is an integral part of the club and we fundraise in many different capacities, local lotto, church collection, events, Headfest, local charity boxes, soccer camps and by utilising the facillities  here are Moyne Villa, any help or ideas you would like us to look at would be taken into consideration and can be discussed with any committee member.
Frequently Asked Questions
Every year we hold a special travel program for our U14's, we journey across the Irish Sea and visit a top premier club and train in an elite academy.  This trip is organised by the trainer for the team and is very popular.
How old does my child have to be to play soccer?
We start training from a very early age here at Moyne Villa, our Academy is for the younger kids who have an interest in football.  Children as young as five/six are very welcome to the club.
When is the registration period?
Registrations take place from late August onwards, all registrations are done online, for any queries regarding registraion please get in touch.
What is included in the registration fee?
We have two plans available, one with gear and one without gear, we have a shut off time for the gear option as we want to be able to order the gear in time for club games.
How can I register my child?
Registration is very easy and is done online, we have plans in place to spread the payments also.
What paperwork do I need to register my child to play soccer?
Nothing at all, we do all that for you, all you need to do is register online and we take care of the rest.
How much are the registration fees?
Registraition fee vary, we have the Academy rate, competitive rate and then Adults.